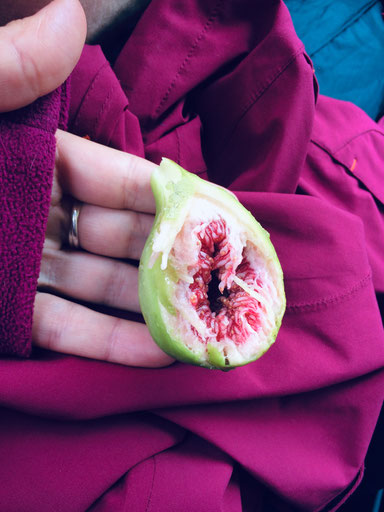 The Hunt for Farmers Markets 
The village I was living in had a wonderful farmers market every Sunday. People from the city would drive all the way to the small town to spend a part of their Sunday at the Clevedon Farmers market. 
I would be full after roaming along the different market stands from all the tasters they offered. I would buy a beautiful bunch of kale, crunchy looking celery and a bunch of cilantro. I'd buy any fruit in season that would catch my eye. Since the wonderful lady I was staying at during that month had an incredible garden, I was not the best customer at the market. She had all of my favourite veggies and fruits a step away from her door. Her tomatoes, zucchini, beans and figs were indescribable. It's simple; all her veggies, tasted exactly how all vegetables should taste like, so flavourful. 
When I went to Auckland city for the weekend after my week of work, I would usually go to a pilates class in Parnell then go salsa dancing at night. I was so positively surprised when I came out of my great pilates class. I found myself in an amazing looking food market called la Cigale. It apparently was voted Auckland's Best Food Market by Metro Magazine for the last 8 years. I was in food'topia. 
Freshly made plant based milk, the juiciest peaches and nectarines from an organic orchid farm. I absolutely fell in love with the "midnight baker" bread. It's so tasty and SO filling. I enjoyed two pieces of the grain bread with vegan nutella and raspberry chia jam. 
You know how today the Kombucha drink is everywhere and all health conscious people are going crazy about it? Well I was never really a fan UNTIL--I tried the Feijoa Kombucha..ok now that is a complete hit! I'm currently back in Switzerland and I'm having Feijoa withdrawals  :)  
from market to plate
I've made so many homemade meals from the freshest ingredients. Most of the time they were from the farmers market or from the garden of my hosts. I've been eating a lot of vegetables and if I were to eat fish, it was a fresh caught Manlin from a great friend of mine. His sons caught a blue manlin maybe three time his size. They were so kind to give me a beautiful piece that they smoked. I added it to my salad, roasted zuchini, sliced up a couple cucumber and voilà! 
I loved to make cacao smoothie bowls for breakfast, avocado & kale smoothies, vegan sushi, couscous superfood salads with beets, vegetable frittata using free range farm eggs from one of my tennis students farm and many more meals only using local products that were in season. 
chloe & Ashleys roadtrip begins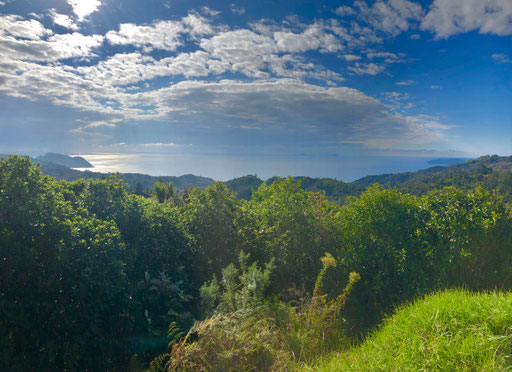 It was a fall day in September 2018 when I was sitting with Chloe in a picture perfect primary school classroom. I was so happy to see where my childhood friend was passing her days at work. It was a short lunch we had together but enough time for me to give her my birthday present. We also had time for our spontaneous idea, which was to go to New Zealand. Well this idea became a reality, and before I knew it I was picking her up from Auckland aiport in mid April. 
North Island Bound 
While on the road in the North island we stopped by a local wood shop to buy a present for my friends in which we could stay with in Coromandel that night. This chap was a character, he was so proud of his work and told us that Swiss customers still order wood crafts from him to ship over.  He had thousand year old Kauri wood crafts for sell. We bought my friend a cutting board that apparently was from a Kauri tree that was a thousand year old--pretty impressive...
He gave us a bag of his organic Feijoas. To me these fruits are green gold. Have you ever heard of this fruit? We told them how in our country they do not exist. He said one either loves them or hates them, Chloe & I definitely are Fejoa lovers. 
It has a very unique flavour with an impressive nutrient content. It is low in calories with high levels of vitamin C, with more than 50% of your daily recommendation per serving. This shrub or small tree is native to countries in South America. 
The kindest couple we stayed with in Coromandel made us a Fejoa Walnut loaf--Could you imagine our happiness level when she told us we could take this freshly baked cake with us?
I can't describe…how GOOOOOOD it was, imagine two girls driving for hours and snacking on this cake, wow we'll never forget the taste of this feijoa bread. 
Secret Recipe is shared below ;)
Enjoy this with Black Coffee and you have found the best tasting combination!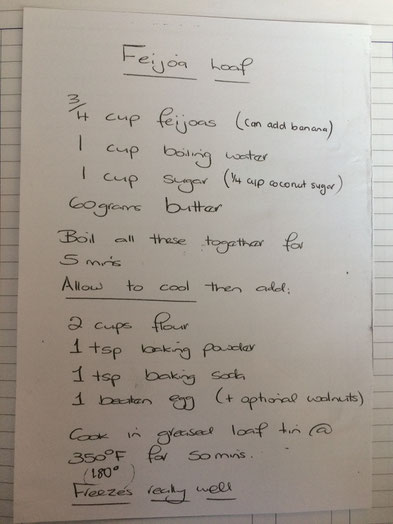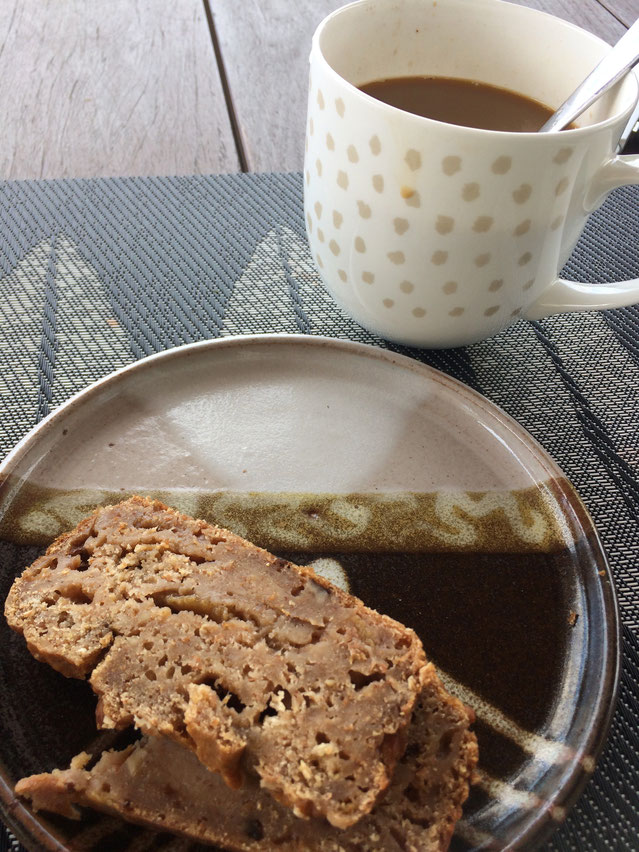 discvover New Zealand in a Hippie Van
---
 Have you ever seen where a kiwi comes from? This was the first time I saw a Kiwi vine. It's actually sad that I had never seen where Kiwi vines grow their beautiful fruits. We see them in Smoothies, Granola Bowls or plastic wraps in supermarkets. Many people know how they look like with their beautiful fruit design, and furry coat, however I'm sure most people would not know how a Kiwi vine looks like. This vine plant lives all year and can survive frosts to-10°C. Kiwi is a great source of fibre, helps your digestion, boosts your immunity, supports weight loss, and is the most alkaline fruits out there! Great for skin with its Vitamin E content. Eating two or three a day will help fight cardiovascular disease.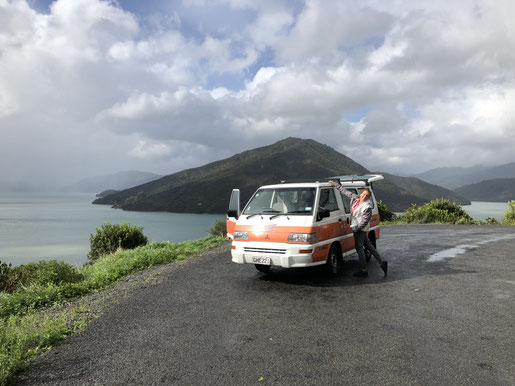 Van Life Breakfast
Chloe & Ashley's budget shall we say was not for going out every morning to find hip, organic, local café's where you would spend more than 20 nzd on a meal. Of course we did spoil ourselves from time to time to the best café's we could find. 
When we went to shop for food, we bought ingredients for our Muesli for breakfast and for lunch we would buy ingredients to put in our beetroot or spinach wraps. 
If you are on the road and want a filling breakfast, that is really easy to make, that is tasty and healthy well go for a Van Life Muesli :) 
We would pour oats, organic almonds, walnuts, pumpkin seeds, and a mix of flax, chia, sesame seeds in our bowl! Somedays we felt like cacao. This would give us a little boost if we'd feel a little bit tired. We would cut up banana slices, and our favourite fruit were the organic blueberries and kiwi fruit. It was so nice to buy kiwi that was from the country and not from thousand miles away. We would use rice or oat milk to soak our dry ingredients and fresh fruit to enjoy it as a wholesome healthy and tasty breakfast.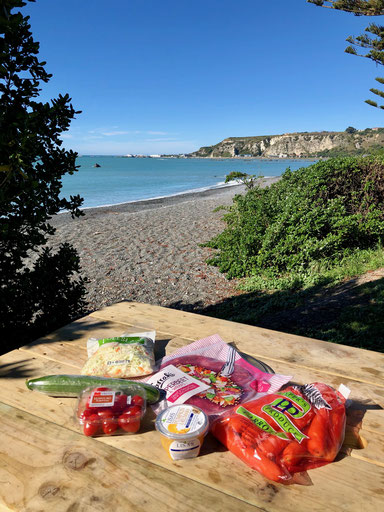 Hippie Van Ringo serves Wraps for Lunch! 
After the most amazing experience in my life, taking an eco tour to swim with wild dauphins, we found a perfect ocean view picnic table. 
We would cut up thin slices of carrots and cucumbers with our swiss army knife (a life saviour when you're out camping). Cherry tomatoes would also be enjoyed in the wrap. Our favourite spread brand we found in New Zealand was called Lisa's. I loved the Kumara (sweet potato) and pumpkin hummus. Chloe liked the Babaganoush made with eggplant. We sometimes bought the original hummus, but we were excited about these new flavours in which are not easily found back home. I loved to buy pesto to put in my wrap, Chloe was not understanding how I could put all those flavours together. I'm just a flavour lover I guess :)
We bought some coleslaw or sometimes kale mix salad to fill up our veggie wrap. I liked to throw in some salted nut mix or roasted cashews.
So we Rolled it up and enjoyed this colourful veggie wrap with a view!
Beverage pairing recommendation: Ginger&Turmeric kombucha or the Feijoa and Apple Kombucha (Chloe&Ashleys favourite)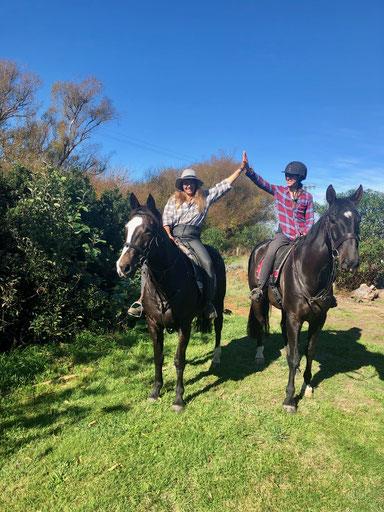 A short but sweet stop in Christchurch 
Chloe & I had an incredible opportunity to stay with the sister of a student I coached tennis to that summer. They had a wonderful horse ranch. My horse was called Mikey and gosh.. did he and I fly like the wind. Cantering as fast as a jet plane I felt ALIVE again. I can't wait for the day I have my own horse. Riding on a beach so immense where you can barely see the end of it is a dream come true for a horse rider. 
After a wonderful horse ride, dinner was served, and wow.. we ate like Queens. Zucchinis, onions, tomatoes and peppers picked from her garden and a fresh catch of the day was the menu. From the pictures you can tell that the veggies are from an organic garden. I can't describe how flavourful every bite was. What a great end to this sunny day in the outskirts of Christchurch. 
A glass (or two) ;)  of local Pinot Noir with this light, fresh & flavourful meal was a recipe for happiness.  
---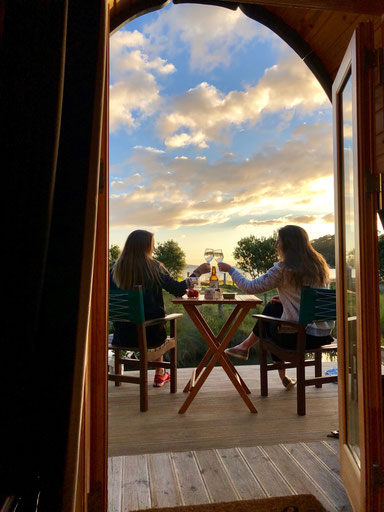 Chloe & Ashley's Princess Van Life
When I say "treat" ourselves, we spontaneously booked eco hotels, airbnb's and nice hotels where we could enjoy a warm bath and a big bed with five pillows. The Van life is a great way to make you realise that having a warm bed is like winning the lottery. We ate in farm to table restaurants or health conscious café's.
My favourite hotel we stayed at was in Queenstown. The Sherwood hotel was rated top 10 most eco friendly hotel in the world. The feeling when you walked into the Sherwood territory automatically gave me a happy vibe. Their concept was not the feel of a traditional chain hotel like a Hilton or a Marriott. They wanted and worked hard on making you have a different experience in a hotel. There was chilled music playing when you walked in the room, beautiful native American style curtains, a wooden bed, and natural decorations with some hanging plants. They had a sauna for guests to be able to reserve for themselves, they had a yoga studio, workshops and; my favourite was the huge garden. Their farm to table restaurant would only use ingredients from their garden. What a great concept, and my one day dream to open a restaurant like this. The menu always changes depending of what veggies grow in each season. The breakfast was also a dream come true. With homemade (gf, df, v) seed bread, warm croissants, homemade nut butter, granola, fruits and everything you were hoping to see on a buffet bar top. The chef was so nice, he made us homemade waffles with garden blueberries and their own honey drizzled on the perfectly crusted waffle
...well all I can say if you ever are in Queenstown the Sherwood is a place to stay and eat. 
HERE & NOW
---
a couple snapshots THAT TOUGHT US TO really "live in the moment"
---
eating healthy on a budget is possible
---
treating yourself from time to time is essential
---
Discovering nz in A van with a childhood friend is a cross off my bucket list
---
-thankful-