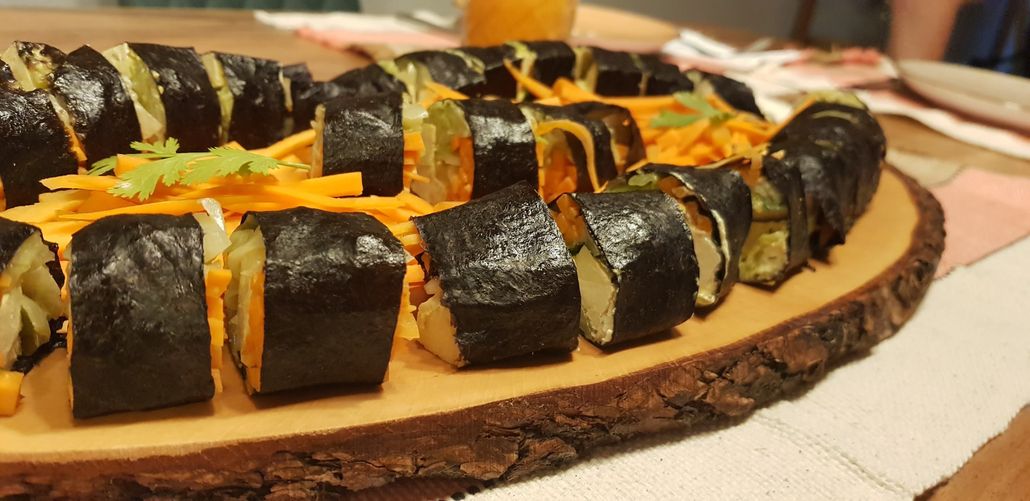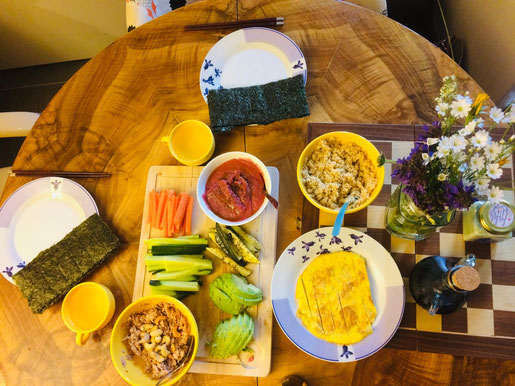 Plant Based & Grainless Sushi
So TAST'i 
Ingredients: 
1) Nori
2) Carrots
3) Cucumber
4) Ashley's Beetroot Hummus
5) Smoked Tofu
6) Avocado
7) Roast Zucchini 
For non VEGAN option; enjoy with
1) Egg 
2) Ashley's Tuna Mix
Non-Grainless option enjoy with
Quinoa or black rice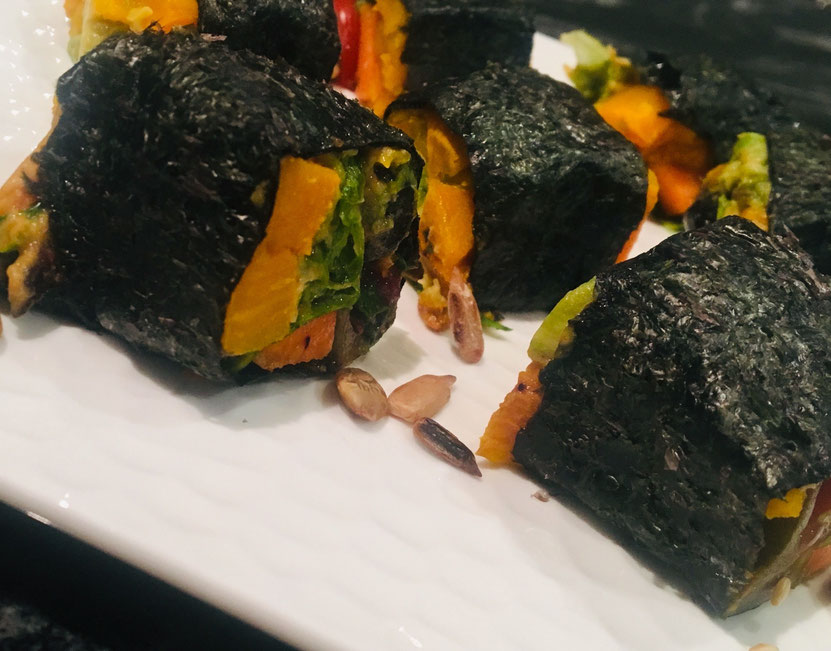 Ashleys Tuna Mix recipe
1) 1 or 2 can's depending on the amount of sushi you are making. Make sure to buy Daulphin safe and the most Ethical. https://www.greenpeace.org/usa/oceans/tuna-guide/ you can find a ranking of what the best buy is for canned tuna. 
2) Add a little soya or tamari sauce 
3) add white wine vinegar, I would say 1 to 2 tbsp (I eye ball everything when I cook) so have confidence in your amounts, that's what makes it fun and personalised, cooking without an exact precise recipe but just with your gut feeling :) 
4) Salt & Pepper
5) Mayonnaise 
6) Onions and garlic make everything more tasty--chop up very thinly and throw it in, mix well and enjoy this tasty mix! 
7) Oh wait I forgot the best part--ROASTED & SALTED CASHEWS is a must for the mix, add it at the end so the cashews stay crunchy! 
Ashleys Beetroot Hummus 
1) 3 cooked beets
2) 1 jar of chickpeas 500 gr.
3) 1 garlic clove (make sure to take out the green thin slice inside)
4) 1/2 lemon Juice
5) 1.5 tbsp of white wine vinegar
6) 2 tsp of Agave syrup 
7) Blend everything in a food processor 
8) Drizzle organic virgin olive oil on the spread with pan roasted sunflower seeds 
---
A'Lofty Lettuce boat
---
Leftovers are almost better!
So light, So healthy and SO TASTY! 
Get a bit creative! 
Go buy a nice crisp looking butter lettuce head from your farmers market and wash each leaf carefully. Cut up some zucchini, eggplant, pepper and onions into small cubes. Throw it all in a frying pan greased in coconut oil. Add some balsamic vinegar OR soya sauce and season your ratatouille mélange. While your veggies are cooking cut up a ripe nectarine (if in season).
Fry up an egg, take out your leftovers wether that's a homemade tuna mix, slices of chicken, beetroot hummus OR tofu you prepared. 
To make it tastier, add balsamic glaze, spread some mayonnaise, cream cheese or sour cream. You will find vegan options for the above.
Or even better? Make you own cashew cheese ;) 
Direct message me for a tasty recipe for how to make a plant based cheese.