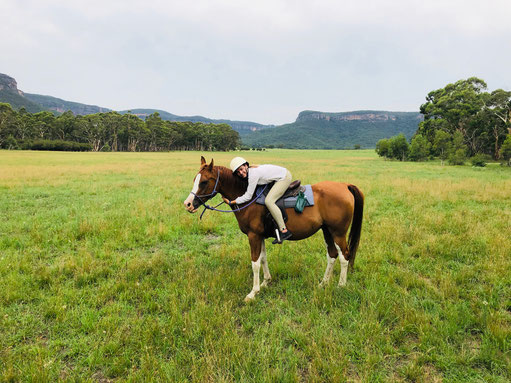 When I was in Sydney, I could easily find café's or restaurants who support their local economy by buying their ingredients from farmer markets and using only food in season and from their land. 
Don't you agree that this should happen everywhere? Transportation is great, however it got to the point where we are importing food across the world with container ships, planes, trains and automobiles. It bewildered me when I saw kiwis from Italy in a supermarket in Sydney, and when I'm in Switzerland I see Kiwi's from New Zealand. Apart from that little disappointment,  I did notice that Australia and New Zealand supermarkets or food stalls do have a lot of food made in their own country. I have never so many ingredients or foods that where labeled "Australian Made" or "New Zealand Made", which put back a smile on my face :)
I just came back from the the Blue mountains, where I was working on a horse ranch in Kanimbla Valley. Where Wifi was non-existent and my life came back, never feeling so in the moment. I had to get used to having minimal cooking gear for three weeks straight. You know living in a caravan, and a kitchen that is not the cleanest and limits your Michelin star cooking..ranch life basically, in which I got used to very fast. With this being said, I could easily jot down Ramen noodles, cereal, frozen meals etc. on the shopping list, to have an easy dinner ready after a long day of work. Well, that obviously didn't happen, no matter how tired I was, I still made myself a nice looking and tasty healthy meal with the limited ingredients I had in my fridge.
Which once again, shows you how easy it is to make a nice meal with few ingredients.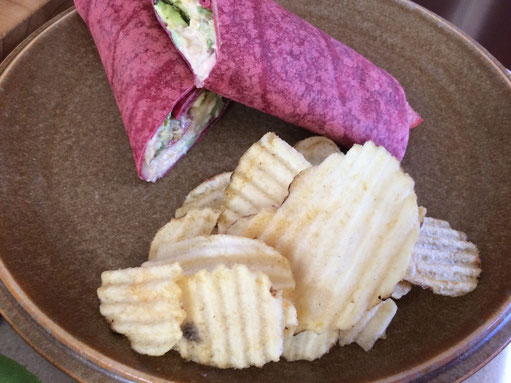 --VEGAN RAINBOW WRAP--
I must say, I lived off of wraps . I did not get sick of them though, since I changed them up a little everyday time. My favourite one I made was what I call the Rainbow wrap. 
I had charcoal, spinach and beetroot wraps. I then let my creativity go wild and mixed all kinds fillings. Rolled it up, added a few chips for that extra crispness and WOW-was I satisfied with the taste, how full I felt after just one wrap and how I fuelled my body with just pure nutritious and healthy ingredients. 
Preparation Time: 10 minutes
Difficulty level: Easy 
1) Spread Pesto (homemade is always best) ;)
2) Sweet potato, cashew nut dip (So tasty!)
3) Hummus is also always a good idea
4) Cucumber (from the garden is highly recommended)
I was lucky enough to have the tomatoes and cucumbers from the ranchers beautiful vegetable patch.
5) Avocado
6) Zucchini Fritters (Easy to make homemade) 
7) Through in some salt&Vinegar chips for a crunchy wrap 
This is an easy to make VEGAN WRAP--and for those vegetarians, throw in a little feta cheese ;) 
Enjoy your healthy, easy to make rainbow colour wrap and please do not hesitate to ask me any questions.

Does this make you want to have a vegetable garden?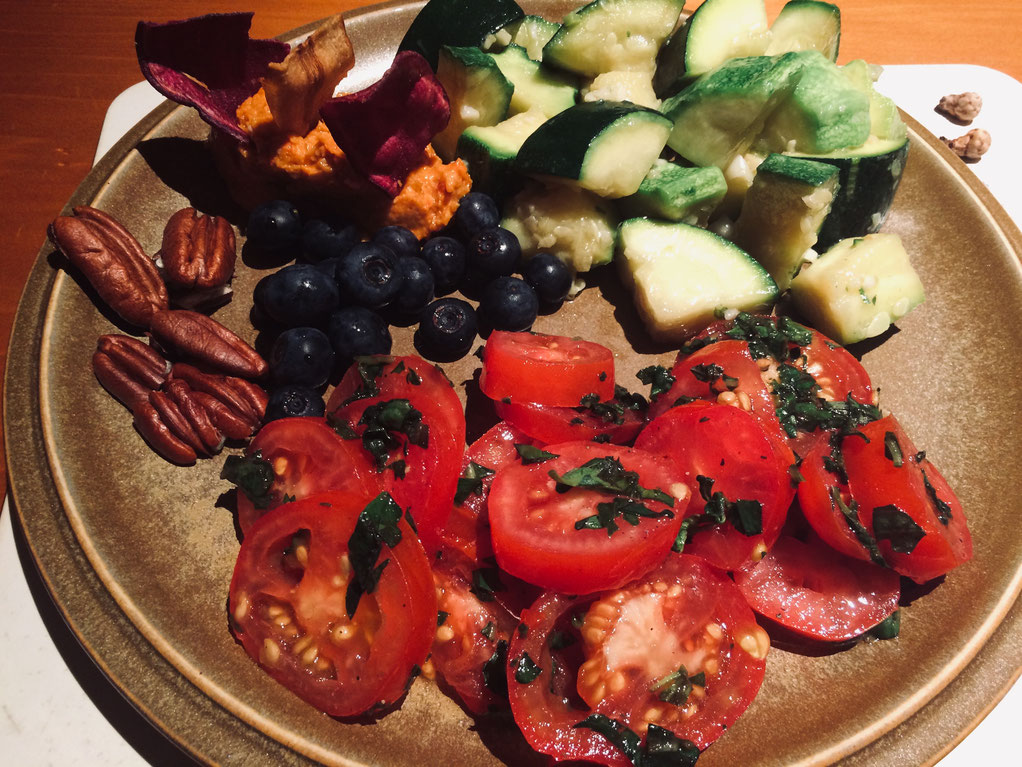 I am currently in New Zealand staying with a lovely family in the small country town called Clevedon, east of Auckland. I was SO lucky to be treated to fresh picked vegetables and herbs from the garden. Sunday, I went to the farmers market which was an instant happiness boost. I bought blueberries from a local farmer and a baba ganoush spread was fresh made by a hummus passionate. The vegetable chips is the only thing that was "supermarket" bought. However, there is no palm oil, dextrose or any of incogitable words you might read under the ingredient list. These vegetable chips are salted with sea salt and vegetable oil turns their soft flesh to a crunchy texture. 
Below are a couple pictures from the farmers market :) and I promise I'll get back to this Salad I made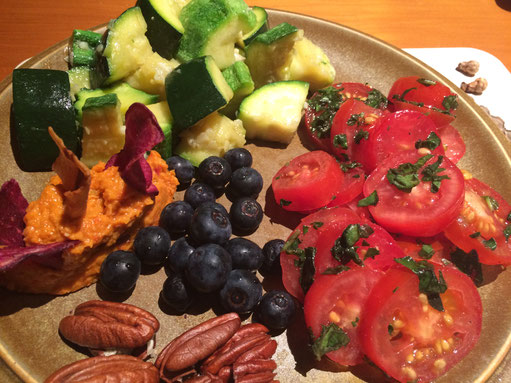 Healthy & unimaginable tasty Garden Salad
1) Zucchini from Garden, cook in coconut oil and garlic. Season with salt, pepper and drizzle some high quality olive oil and lemon juice. 
2) Tomatoes from Garden, chop up some basil from your herb pot and season with salt, pepper and use high quality olive oil as well. Olive oil does make a big difference, so when you are not sure what one to buy at the store, pick the higher price, this usually means higher quality, which is worth the extra coins. Or even better if you find a bulk store near by, bring your glass bottle or jar and fill up the amount you want-no waste ;) 
3) Pecans were their neighbour friends who have a Pecan Ranch. 
4) 1 generous table spoon of baba ganoush topped with Vegetable Chips
5) Blueberries are low in calories and have the highest ranking of antioxidants-They are just SO sweet and flavourful, As a snack, with your Greek Yogurt or even in your salad, you'll never be disappointed with them. Make sure to buy them when they are in season and from your country. 
 You really do notice the difference of eating food from your own garden or from local farmers compared to buying your vegetables that are shinny and perfect looking wrapped in plastic in big supermarkets. When you buy from the mass production agriculture companies, you are not tasting how that vegetable, fruit or nut actually should taste like. 
do you know how your pecan nut looks like?
Pecan trees are part of the Hickory family and are originally from North America, however they copped well with New Zealands climate. They have been growing pecan trees in the Southern Hemisphere for more than 100 years. 
In a store you find them in plastic wraps with the two separated kernels. Did you know that they look like the first picture (far left)? They have smooth brown mottled shells and a thin partition separating the two halves of the kernel. 
Pecans are high in antioxidants which help reduce the risk of heart disease. Improves Digestion. Helps with Weight Loss. Reduces the Risk of Certain Cancer. Anti-Inflammatory Benefits and Boosts Immunity.
So you won't go wrong with having a handful of pecans a day ;) 
Eggplant made easy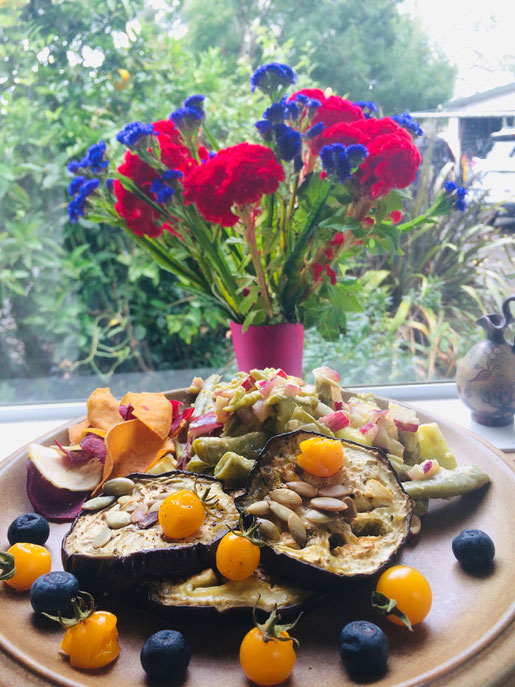 And Tasty... ;)
1) Wash your eggplant from your garden or the farmers market once--Wash twice with warm water if bought from the supermarket to get rid of the pesticide spray. 
2) Cut in into slices
3) Put on a baking sheet on a tray
4) Preheat oven to 180 degrees Celcius (350 F)
5) Drizzle high quality Olive oil
6) Sprinkle Salt and Fresh Ground Pepper
7) If you are a Garlic lover like me add thin slices of garlic
8) Pumpkin seeds are full of Protein--Through some of those on top too 
9) Bake for 35 minutes or until light golden brown
and Voila--done...so easy right? While you let them cool down a little make yourself a Green Bean Salad with red onions and throw in a half of avocado to make it more filling and tasty ;) 
Vegetable chips are always such a great addition to your healthy meal! 
---
---
QUICK & EASY HUNGER FIX
Kale & Apricot Celery Salad
1) 1 bunch of kale, but into small pieces (Try buy from farmers market & organic)
2) 3 stems of Celery cut into small half an inch pieces
3) 1 small avocado smashed in there
3) If you have some extra Cauliflower left from the Roasted vegetables used for the frittata through them in your salad
4) Sunflower seeds and salted Cashews
5) Take three apricots (only if in season) and cut into small peaces to add a little sweetness to your healthy Salad
DRESSING? Mix Good quality olive oil, a tbsp Greek yogurt, garlic, salt, pepper and a little lemon juice not forgetting the secret ingredient --> cilantro (Coriander). 
Vegetarian Frittata 
1) Preheat oven to 180 degrees C while you are washing and cutting the veggies
2) You can roast cauliflower, eggplant, red/green peppers, mushrooms, onions and zucchini. Add olive oil season with salt and pepper and your done throw it in the oven for 25 to 30 minutes.
3) Whisk up 8 to 12 eggs from happy chickens (free range, local, organic etc). In the same bowl crumble some feta int there or your favourite cheese. Add some more salt and pepper or even some dried oregano and sage leaves would be nice! 
4) If you have some left over cooked potatoes in your fridge that need to be used up cut them up and through them into your mélange too. This will make your frittata more Spanish like and more filling ;) 
5) Find a frying pan that can go in the oven or a baking form that provide a nice form to the Frittata
6) Bake for 25+ minutes on 200 degrees C
 7) Do you have Refried pinto or black beans sitting on a shelf in a can? throw them in the mix too to get a big protein filling meal :) 
8) I love to crumble up some Walnuts to make my Frittata have a fun texture--that "crunch" sound is so satisfying! ;) 
If you have Kumara (sweet potato) dip, take it out! It pairs perfectly with the egg vegetable cake ;) Enjoy your easy to make gluten free, vegetarian meal!
Do not hesitate to ask any questions by emailing me!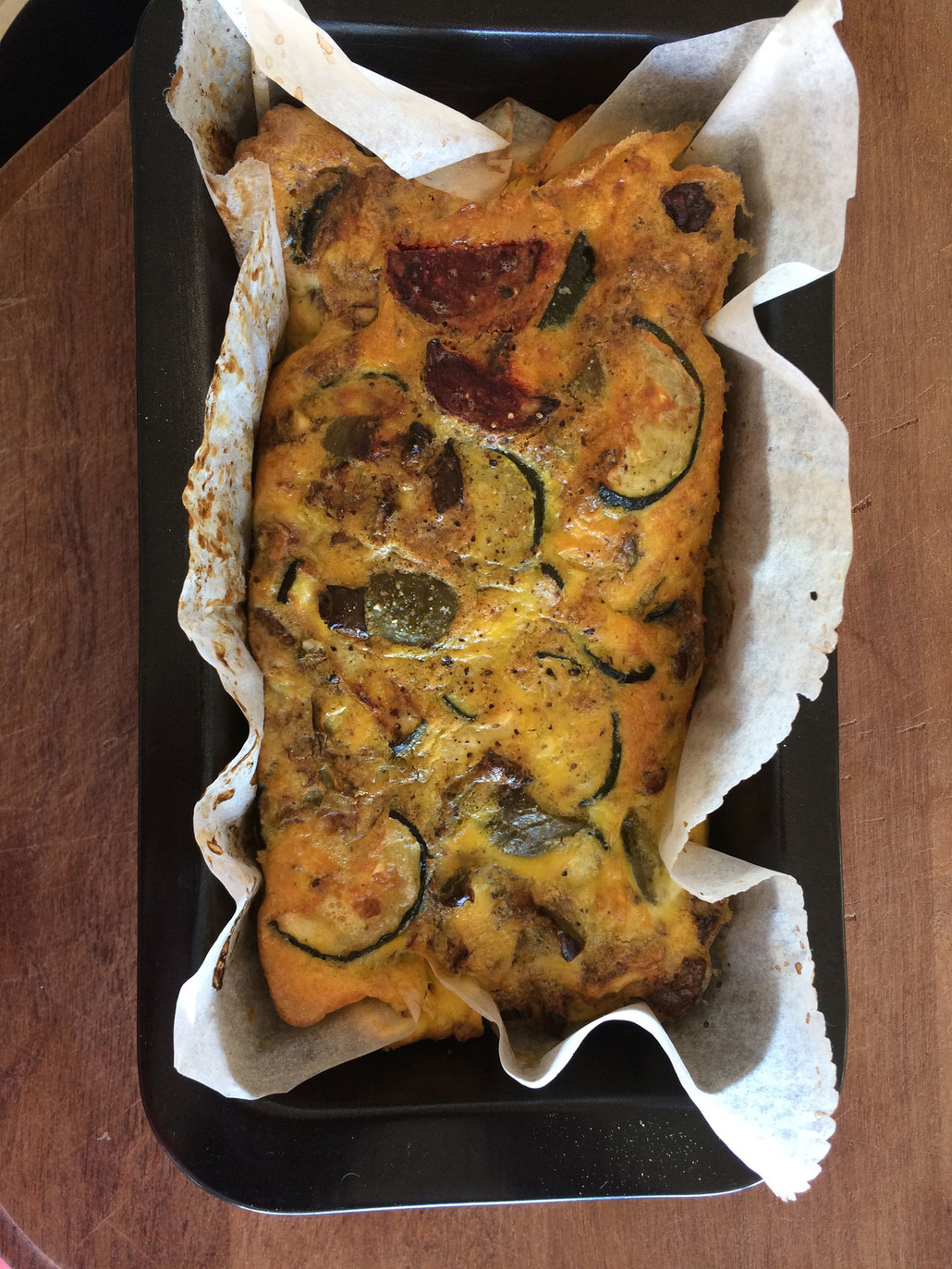 WHAT IS BETTER THAN THE FEELING OF ACHIEVEMENT?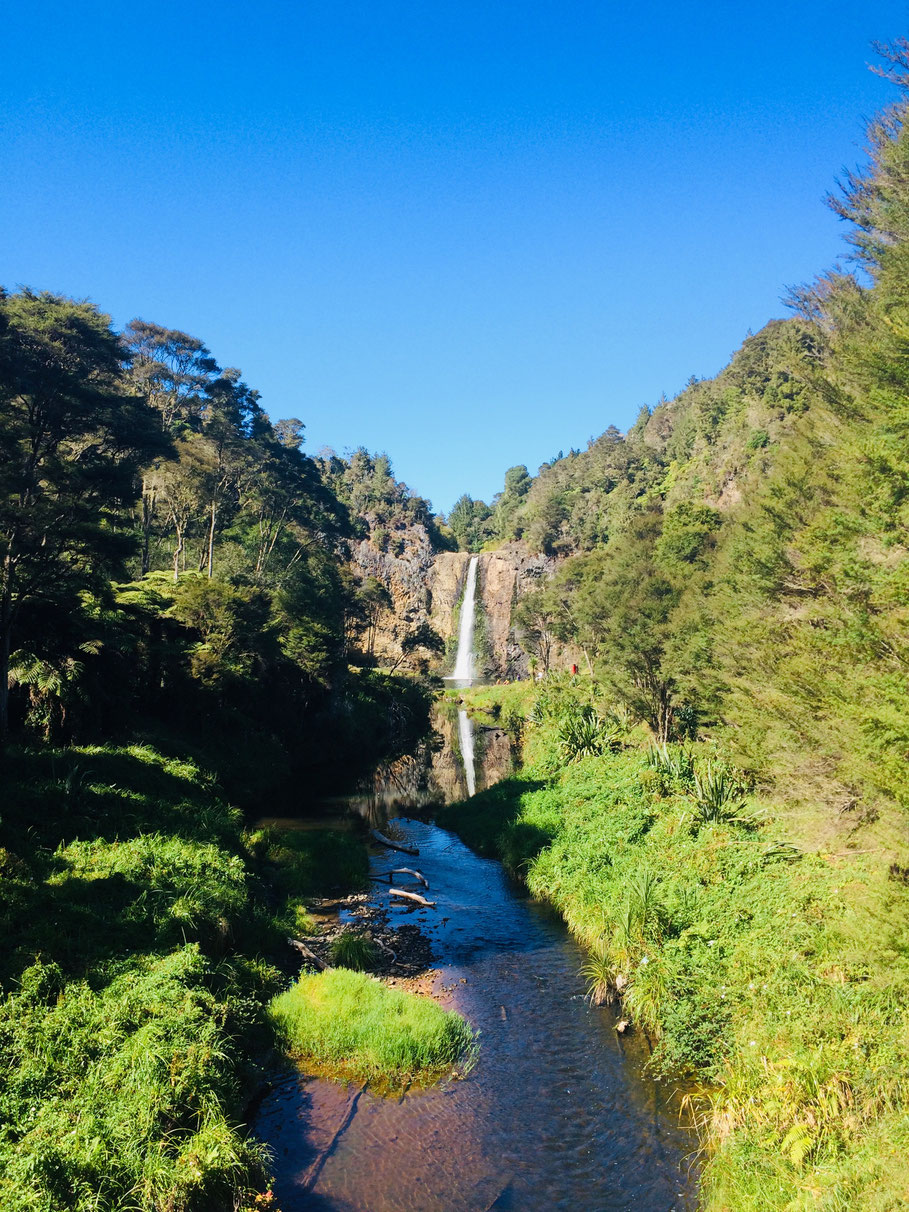 2 tasty Salads -------Beetroot & Pear ------------- Couscous Mushroom & Onion
 Hungry and no time to cook?  = Hangry ;)
Once you step foot on a Honua Rangers National Park trail, there's no turning back...The feeling of running through small windy, scenic bush trails for 8km with an elevation of 350 meters, is an indescribable one... I am so thankful to have these trail run paths outside my door step...I can't wait to discover more tracks..twice a week is my goal to go on these tough but fun runs. I have some great veggies in the garden to fuel me up after my run! However my tennis lesson start soon and I don't feel like making a lengthy meal.
Email me if these salads look of interest to you, I am more than happy to share how I made my lunch a desirable one :) with not much time and will. 
Turmeric Curry TOfu on eggplant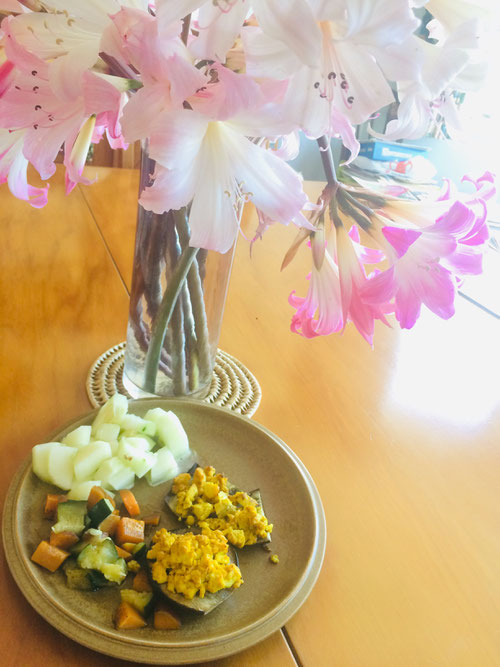 Tofu is BLAND but YOU can make it taste GRAND! :)
Prep time: 15 min
Cook Time: 30
 Preheat the Oven 180 degrees C.
Ingredients 
1) Firm Tofu block 
2) Turmeric powder 
3) Curry powder 
4) Lemon Juice 
5) Honey or Agave syrup (for Vegan option)
6) Organic Olive oil 
7) Eggplant
8) Roasted & Salted Cashews
Cut the Eggplant in 1 cm slices then cook them in coconut oil in frying pan for 10 minutes --IF you like the eggplant to be real soft cook in boiling water for 10 minutes then set aside.
Cut the tofu in small cubes then throw it in a bowl. 
Add ingredients 2-6 in same bowl and mix. 1 tbsp of Olive oil is all you need then Season with Salt and Pepper :)
Final Step is to spread the Eggplant slices on a baking tin-add a nice layer of Tofu scramble on top--drizzle with Olive oil-Throw in the Oven for 30 minutes and your done!
Enjoy it with a nice salad, quinoa, black rice or roast vegetables :) Remember to throw those tasty cashew nuts on top of the Tofu eggplant :) To make it fine dining style drizzle a little Balsamic glaze ;) 
Pair the meal with a Feijoa Kombucha :) I was SO excited to try this when I saw this in the Shop--Feijoa's are my favourite fruit ever!!!! Who's with me? :) I have not had this fruit for years now, since in Switzerland they do not exist. 
A food&Beverage Experience on the Waiheke island nz
Getting a call in the early hours on a Sunday morning from a friend who said "you want to come on our boat?", I could not even imagine to deny this offer. They said to bring a lunch. With the little time I had to get ready I had to see what I could come up with in a rush. I made myself a nice filling superfood salad threw it in a lunch box and before I knew was enjoying it on a white sandy beach on a secluded private island. I cut up some celery, tomatoes, carrots, cilantro, lettuce, threw some walnuts, blueberries, pumpkin seeds in and sprouts. To help this salad taste magical was the Kumara hummus spread ;) 
Ending up on Waiheke island we indulged in some more good local products. A fresh crisp fruity rosey from the island with a Man of War Platter. The food and beverage paring experience was incredible. Tasty food and wine with a great atmosphere made a great ending to our day. Thank you to the Gower family for taking me to this magical gastro island :)
-French Market in Parnell-
After my night salsa dancing I woke up feeling like I needed to get to a Pilates class. I was lucky to find a studio which was only a 3 minute walk from the hostel I was staying in. My 9am hot pilates class at Rise yoga studio was so great. I really recommend any one who is in Auckland to check out this studio
Of course all I wanted after this workout was either a huge Acai smoothie bowl or a fresh Juice, I was going to see if there would be a café near by to the studio in which could fulfil my crave. Everything seemed to work out just so beautifully for me this weekend. Right next door to the studio they had a French farmers market called La Cigale that Sunday. The first stand I walked past I got stopped by a man who shouted out "hey there c'mon try a nectarine" They were so soft, so sweet SO TASTY! he said they are right off the tree, no preservatives and chemicals…I could not resist to buy a bag for 5 dollars.
The next stand was another one that caught my eye. She was an adorable lady from Russia who made her own nut milk. I bought the 13.50 dollar Cacao, cashew milk one….it was like a dessert…I tried to forget the fact that every sip would be about 3 dollars worth. Because even if that bottle was 20 dollars I would still buy it, that is how good it was! I really want to try to make this mind blowing drink at home. 
The last favourite stand I spent some time and money on was the called the Midnight Baker. They were a perfect vegan couple, who made bread that tasted so hardy and SO HEALTHY. I bought a loaf and they gave me a little toastie for free, so nice of them. I want to try to make that same chia raspberry jam and vegan Nutella, wow that was also a dream. Hardy Bread, chocolate and raspberry chia bliss ;)
This made me want to race home to try and bake this nutritious bread that is full of protein, fibre and good fats https://www.themidnightbaker.co.nz/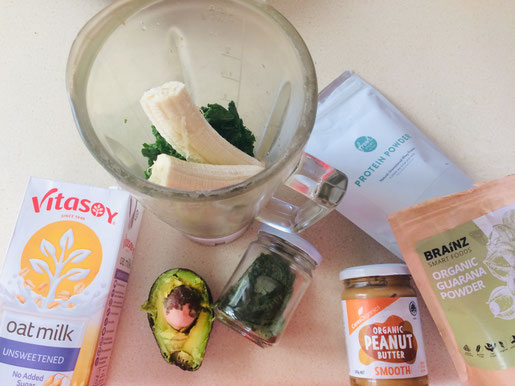 Super Green & Good Smoothie! 
Don't get scared away by the colour and texture
—it's called Super Green for a reason ;)
Ingredients:
Handful of Kale or Spinach
1 Ripe banana
1 cup of Oat milk
1 small tsp of Matcha, spirulina or chlorella powder
1 tbsp of Protein powder—Try to stay away from artificial protein and stick with the natural protein powders like Hemp or Pea protein
1 tsp of Guarana Powder-gives you the same boost as Caffeine from Coffee
½ of an avocado
1 tbsp of Peanut butter J
Sweet tooth? add 1 tbsp of Honey or Agave, date, or maple syrup (vegan option)
plant based sushi
Riceless sushi 
I just love coming up with new ideas—I decided I wanted to eat less carbs one night so I tried to make sushi without rice. I roasted pumpkin in the oven, cut up slices of cucumber, threw in some roasted & salted cashew nuts, spread my favourite sweet potato hummus on, added lettuce and avocado in the roll and voila! A tasty, healthy & light sushi dinner—vital ingredient would be the sushi ginger and Tamari sauce J Tamari sauce is GF and has less salt and artificial nasty things that you might find in Soy sauce!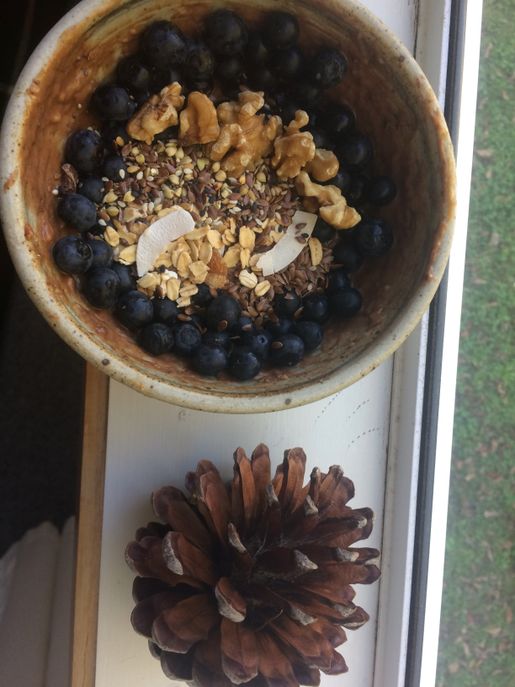 Cacao Smoothie Bowl
---4 ingredients—
1 Ripe Banana
1 tbsp Cacao Powder
1 tbsp Cashew or Peanut Butter
½ tbsp Honey or Vegan option-Agave Syrup
Toppings can be
Blueberries, banana or kiwi, walnuts, chia seeds, hemp seeds, flax seeds, coconut shreds, Any fruit, seed or nut you love most is a perfect topping J Throw some of your homemade Granola in as well.

Images pleasing to the eye
the north island culinary experience
Cacao almond energy bites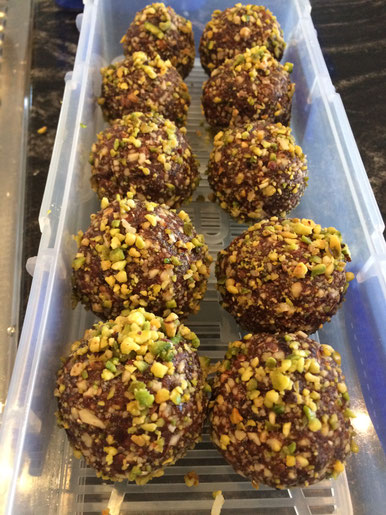 Ingredients
200 gr. Almonds
200 gr. Medjool Dates pitted
3 tbsp Cacao 
1 tbsp Honey
2 tbsp Coconut Oil
2 tbsp Peanut Butter 
2 tbsp Water
1 tsp Cinnamon 
2 tbsp Chia Seeds 
Throw everything into a food processor, if the machine has a little trouble, add some more water or scrape the part of the mix that is stuck down into the blade part so that it also gets crushed. It would help if you first blend the almonds and then add all other ingredients. 
Form the sticky mix up into medium size balls in which you can then roll in crushed pistachios, poppy seeds or coconut shreds :)