❄
❄
Getting closer to your family Christmas dinners? Include this magical vegetable to your meal! 
❄
❄
Cauliflower is widely used throughout the world, thanks to the British who brought it to Europe 150 years ago; North India to be more precise. Cyprus is where it seems to originate from. This vegetable is in the same botanical family (brassica) as cabbage, kohlrabi, kale and broccoli. These are called cole crops, in which you can also find collard greens and brussels spouts. These species all provide cancer fighting nutrients.
Orange, Green, and Purple Colored Cauliflower you can find!  The purple cabbage is known to have anthocyanins, which are potent antioxidants also present in red cabbage and red wine.
Below are couple health benefits from this winter vegetable!
Reduces The Risk Of Cancer:
Relieves Inflammation:
Reduces The Risk Of Heart And Brain Diseases:
Great Detox:
Weight Loss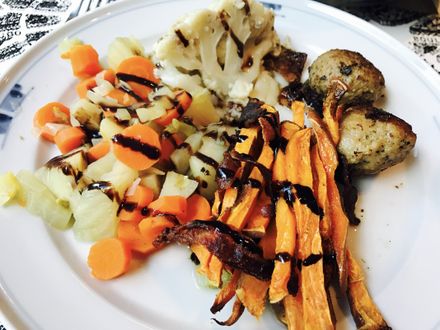 Cook your Vegetables in a Pressure Cooker 
How good does an ecologically friendly, economical, safe, and dependable pressure cooker sound to you? How about the advantages of saving time by  getting in and out of the kitchen fast?  With Christmas and New Years around the corner, you would want to serve yourself and your family wholesome, nutritious, home cooked meals in fast and easy way no?
No more junk food, no more expensive meals out or prepackaged "dinners" with their high fat, salt, chemicals and other unwanted additives.
Investing in a pressure cooker is a good idea, you'll see for yourself how easy and practical it is, and most importantly how amazing your vegetables taste. They keep their color and juicy taste and you will be proud of what you have made for yourself!
I recommend Futuro FAGOR pressure cooker! They are over 100 dollars in stores but you can find them on Amazon for around 60 dollars! They last about 50 years and will be a great lifelong investment!
To read more about how to use this tool and the benefits click here https://www.aloftylife.com/2018/12/20/pressure-cooker-use-benefits/
I cooked carrots, cauliflower and fennel in my pressure cooker and I enjoyed it with Sweet potato fries and meat balls, which were from an Italian fine food shop shop in Uccle Brussels. Everything was so fresh. They sold incredible homemade products with their high quality Italian  products, and meats from local and sustainable farms. 
I made couple delicious salads with these winter vegetables from the Brassicaeae familiy. 


Do not hesitate to ask me how to make a tasty salad using vegetables from this specie! 
---