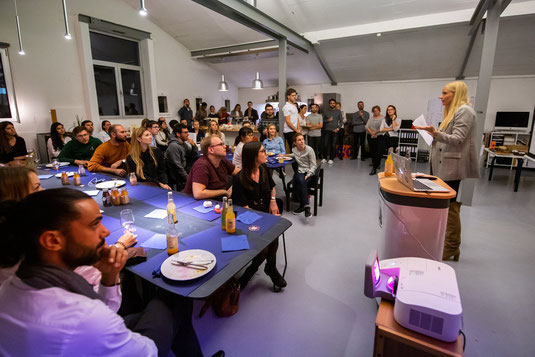 Are you passionate about food ? An entrepreneur?
FoodHack is what you need to Attack!
I am an entrepreneur, with my dream of one day opening my Needle Patch café and Juice bar, and going to events from FoodHack is a great start.
They "support food and drink entrepreneurs in Switzerland with the necessary resources to develop their businesses".
I have attended many of their events, and recommend it to anyone who has an urge to start a food business however who do not know where to start. You meet so many inspiring and motivating people who are in the same boat as you. You get great contacts, eat amazing food and can learn from the speakers about their journey to success of their business, brand or idea in the F&B industry.
To give you a better idea FoodHack is "the entry point for food and drink entrepreneurs in Switzerland. Through our events, content and the community, we help entrepreneurs grow their businesses and contribute to the Swiss economy".
If you are in the region and want to network, enjoy a potluck dinner and learn from guest speakers in the food industry then this is a fun and worthwhile event, then check out their facebook page where you can find all their upcoming events.
https://www.facebook.com/FoodHack.ch/
I made a Superfood Salad topped with homemade curry cashews
My Healthy, Hearty, Tasty Superfood Salad
Your base can be split peas, couscous, bulgur, quinoa, spelt or black rice
Ingredients
1)    Smoked Tofu (cut into cubes)
2)    Sweet potato baked in oven (olive oil, salt, pepper) 
3)    Coriander
4)    Onions finely chopped
5)    Apple
6)    Avocado
7)    Hemp, Chia, sunflower and sesame seeds
Feta or Gruyère Cheese 
If you are vegan or lactose free, then of course cut out the cheese, I promise it still tastes amazing ;) 
Dressing I use Canola oil with White Vinegar, I add herbs, garlic and mustard. If you want to make it extra tasty add some mayonnaise. Salt and Pepper is always a good idea ;) 
 Open your jar of homemade curry cashews and make your salad extracashewlar ;) look to the right column--> 
Sundried Tomato Hummus
B

uy a can or two of chickpeas, drain them (you can keep the chickpea water to make vegan desserts, it acts as the egg white).
Add lemon juice, mayonnaise (vg) salt, pepper, garlic, sun-dried tomato, one tbsp olive oil and sesame paste (Tahini) and you are good to go! Mix it in a blender or food processor. You can enjoy it with homemade vegetable chips (my favourite), raw vegetable sticks, crackers or well, anything your heart desires really! :) 
Homemade Curry Cashews
1)     Buy raw cashews 100 gr.
2)    Salt, pepper, curry powder and Cumin are the spices you need
3)    Add 1 tbsp lemon juice and good quality honey. Use maple or date syrup for vegan option
4)    Mix all together let it sit and marinate before you spread the cashews on the baking tray, make sure they are nicely spread
5)    Bake 120 degrees Celsius for 45 minutes, let them cool and crips up
6)    Top on your superfood salad or Jar them up for a tasty snack J