Let's take a trip to London UK
 When I lived in London, Borough market was my escape from reality and my highlight of my day. My favourite times while I was there, was when I bought all the ingredients from the local farmers and fishermen. Going home with a bag full of artisan products then cooking a three course meal with friends who enjoy eating as much as me was my greatest memory. Going out to restaurants is nice, however I much prefer making homemade meals with ingredients in which I bought from the main producer; knowing where it's from, how fresh it is and imagining just how amazing it will taste! 
Check out the pictures from what we cooked. It was so delicious, I still can taste the flavours in my mouth.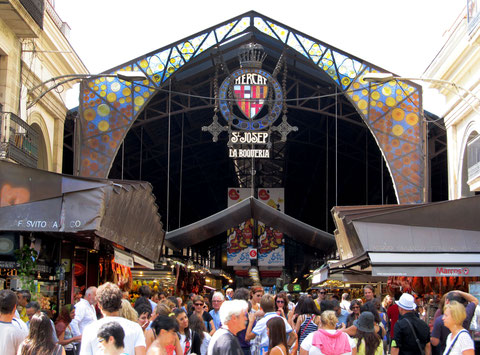 Let's take a trip to Barcelona Spain
If I would live in this incredible city, la Boqueria would without a doubt be one of my food shopping spots. 
My mother has told me to eat at El Quim, which was one of the food stalls in the market. She has seen a Swiss documentary on El Quim, which is a bustling family run food stall in the middle of the market. I can confirm that because when I went to find this apparently food heaven spot, every seat was taken and I have never seen so many people waiting for the next person to have finished and paid the bill. Since I was alone it was easier for me to find my next victim, I watched a man sip his last gulp of beer and he looked like he was ready to pay. It is all about time and place. I was really lucky.
Mushrooms, were in season, they were in front me, staring, I knew exactly what I felt like eating without even checking the menu.
You could find many typical Catalan meals on the menu. If I could afford it, and have four stomachs like cows, I would order everything on the menu. Funny enough that is what ended up happening. There were two elder Californian women who found a spot next to me, and a woman from New Zealand on the right side of me. The two American ladies had "eyes bigger than their stomachs", they ordered SO MUCH, along with the lady from NZ, she as well did not realise how much food she ticked off on the menu. So you can guess, I was in the middle of three ladies who ordered everything on the menu. We became great eating and drinking buddies. From homemade sangria and sharing every plate with them, I rolled out of the market. I felt like I would never eat again. Every bite was an absolute dream, so many flavours and new tastes I discovered. I HIGHLY recommend you going there for an incredible food adventure and taste of Catalan!
I met and shook hands with the owner, I told him how much I enjoyed it. You could see he loved what he was doing, I believe this definitely helps the success of a food business.